We upgrade our assortment with a new improved and lighter Mixing valve. The mixing valve has integrated JG fittings and is suitable for water heating and heating systems.
For decades, the market has sought an effective solution to mix legionella-safe hot water back down to a scald-safe temperature. Alde now release our best ever thermostatic mixing valve, ultra-compact, lighter weight, with improved performance and safety, and integral JG Speedfit fittings suitable for use with 12 mm semi-rigid piped hot water systems.
The Alde Thermostatic Mixing Valve 3 (TMV3) mixes hot and cold water to ensure safe and comfortable water temperatures, reducing the risk of accidental injury and scalding.
Quick and easy to install, with minimum size and weight, make it perfect for factory or DIY fit. The valve complies with all applicable UK and European performance standards, and has WRAS approval, holding TMV2 and TMV3 certificates.
The Alde TMV3 can function at flow rates as low as 1 lpm, and is resistant to limescale and other contaminants. Finally a TMV designed specifically for caravans and motorhomes.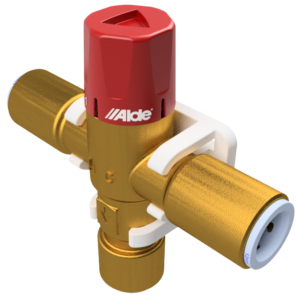 | | |
| --- | --- |
|  Body & fittings |  Lead  free DZR brass |
|  Spring |  Stainless steel |
|  Strainers |  Stainless steel |
|  Handles |  ABS plastic |
|  Body O-Ring |  Viton |
|  Piston |  High Performance Polymer |
|  Cover Cap |  ABS plastic |
Features and Benefits
The Alde TMV3 regulates the supply of cold and hot water to create usable warm water.
Emergency function. The valve has an emergency function that shuts off the hot water throughput in the event of cold water supply running out.
12 mm Speedfit connections mean quick and easy installation, no adaptors needed.
Works with flow rates as low as 1 lpm making it ideal for aerated showerheads.
So small and light, it can be fixed to almost any surface without reinforcement and is easy to hide. Formed mounting bracket included.
"2-in-1" features include check valves and filters that protect both the check valves and the main valve.
Protective cap prevents unintentional changes of the temperature setting.
WRAS (Water Regulations Advisory Scheme) approved.
NSF61 Compliant. BSEN1111, ASSE 1070, TMV2, TMV3 Compliant.
TMV3, highest performance standard for UK TMV, legal for use in nursery, elderly care and hospital environments.
| | |
| --- | --- |
| | TMV3 |
|  Factory temperature setting |  41°C |
|  Working temperature range |  38°C-46°C |
|  Maximum adjustable temperature range |  30°C-48°C |
|  Temperature hot supply |  55°C-65°C (max 85°C) |
|  Temperature cold supply |  5°C-25°C |
|  Minimum hot to mix differential temperature |  10°C |
|  Temperature stability |  +/- 2°C |
|  Maximum static pressure |  10.0 bar |
|  Maximum working pressure |  5.0 bar |
|  Minimum working pressure |  0,2 bar |
|  Maximum pressure inlet differential |  10:01 |
|  Minimum flow rate 15 mm |  1 L/min |
Article No. 3102-006
Purchase here:
https://www.leisureshopdirect.com/gas/caravan-water-heater/alde-water-heaters/alde-tmv3-thermostatic-mixer-valve
For questions regarding these or any other products, please contact your Alde account manager or our customer services team, who can also be contacted for technical, warranty and aftermarket enquiries.
With best regards,
Alde